30 10 2014
Overview Of Data Connetion
                  Data Connections contain essential information about the database servers and databases. Data connection is the means by which a datasource and Application communicate with each other. Connections are a key concept in data-centric programming. The client uses a data connection to send commands to and receive replies from the server.
           The user can create connections to different database servers based on their preferences. The user can create dataconnections using Create dataconnection option or the user can create a connection using New Connection Wizard.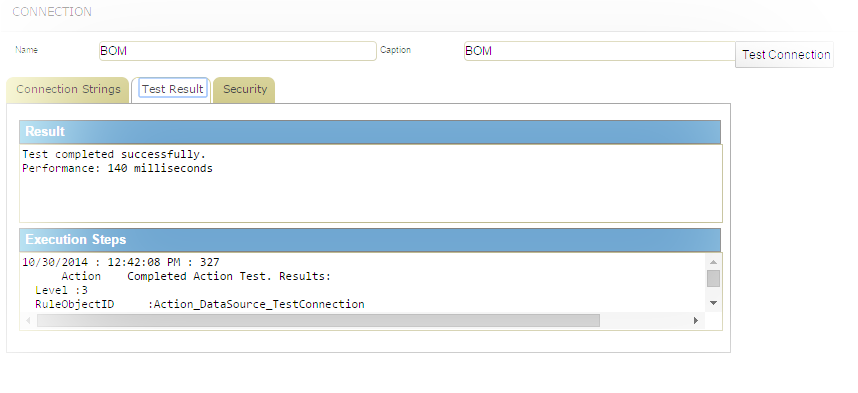 1. Create dataconnection:
The user can create a connection string here for connecting the desired server and test the connection to see whether the connection is working correctly.
1.1 Connection string
User can create a connection string here or can select already created connection strings. The user can edit connection string also can create a clone of selected string.
1.1.1. New Connection string
Here user can create a new connection string. For that purpose select the type of database server the user desired to use and then select the Environment where the user needs the connection. Then write the connection string for the selected database server. The user can enable or disable the new connection string.
1.2 Test Result
Here user can test connection with the database server .The user can view result and also he can view the steps of execution of the testing under the Test Result tab.
1.3 Security
Here user can set the security of the data connection. There are four types of security models. ID field shows Identifier of the application. OwnerApp field shows the name of the application. ResourceID field shows identifier of the resource. Alternative ID field shows the user alternative identifier of the application. Here the user can also set the new connection as default connection.
2. Create Data Connection using New Connection Wizard:
The user can create dataconnection using new connection Wizard. The wizard will help the user to create a connection fast with less effort. The wizard helps user to create the dataconnection in four simple steps. To Know How to create a connection using Wizards Click Here